Age-Appropriate Reads: 3-7
Our lists of age-appropriate reads are intended to be a starting point for parents and children, not a definitive list.  Stating that certain books "should" be read by kids of a certain age can be harmful to developing literacy skills; reading abilities and habits develop at different paces and forcing children to read books that are either above or below their natural reading levels can cause frustration and boredom, making reading no longer enjoyable and therefore more difficult.
The books we have recommended on our age-appropriate lists are the result of years of training and education in child development, early childhood education, and library and information science.  The titles we chose may not be the classics or well-known titles people would expect to be on the list; we also take very seriously the ability of a book to appeal to the child reader.
You may also notice that the lists cover overlapping age ranges, which we feel is essential to prevent children from being pegged into labeled categories.  Additionally, we have added short comments about what children may be experiencing during those ages and how those things may affect their reading habits.  We hope you find these lists useful to you and your young reader(s).
Preschoolers 3-5
Your preschooler is starting to follow more complicated storylines.  Go ahead and start reading books that can take more than one sitting to follow.  If they are starting to show letter and sound recognition, introduce them to easy readers.
The Bunnies Are Not in Their Beds by Marisabina Russo

Chickens to the Rescue by John Himmelman
Elephant and Piggie series by Mo Willems
Fred and Ted series by Peter Eastman
King Bidgood's in the Bathtub by Audrey Wood
Muncha! Muncha! Muncha! by Candace Fleming

Pete the Cat and His Four Groovy Buttons by Eric Litwin
The Tale of Peter Rabbit by Beatrix Potter
Tell Me the Day Backwards by Albert Lamb
Winnie-the-Pooh by A.A. Milne
Ages 4-6
Children are starting to predict what will happen next based on what they know.  They are also developing problem-solving skills.  Encourage these skills with books that have a noticeable plot.
Amelia Bedelia series by Peggy Parish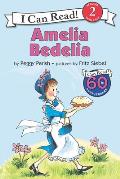 Click, Clack, Moo: Cows That Type by Doreen Cronin
Country Road ABC: An Illustrated Journey through America's Farmland by Arthur Geisert
Diary of a Wombat by Jackie French
Extra Yarn by Mac Barnett
Leonardo, the Terrible Monster by Mo Willems
One Grain of Rice: A Mathematical Folktale by  Demi

Stellaluna by Janell Cannon
Strega Nona: An Old Tale by Tomie DePaola
Up Above and Down Below by Paloma Valdivia
Ages 5-7
Children in this age group are starting to be able to tell stories sequentially.  In math and science they are developing their abilities to sort and order objects.
Babe: The Gallant Pig by Dick King-Smith

The Beetle Book by Steve Jenkins
Bink & Gollie series by Kate DiCamillo
Clementine series by Sara Pennypacker
Frog and Toad series by Arnold Lobel
Ivy + Bean series by Annie Barrows

Jake Starts School by Michael Wright
Love & Roast Chicken: A Trickster Take from the Andes Mountains by Barbara Knutson
Mr. Putter and Tabby series by Cynthia Rylant
Spiders by Nic Bishop